Gift Shop
The Gift Shop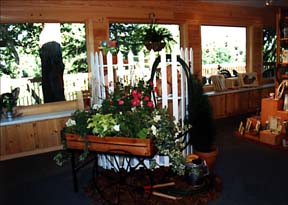 The Gift Shop greets busloads of tourists each summer as they visit the Clemens Gardens and adjoining Munsinger Gardens along the Mississippi River. Opened in July 2000 with a ribbon-cutting ceremony attended by several benefactors from the Central Minnesota Builders Association, provides an important piece for future funding of St. Cloud's most popular tourist attraction.
The gift shop sells a variety of plant, garden-related gift items and mementos. It also has restrooms and provides some visitor information. In summer months, the Clemens and Munsinger Gardens attract more than 3,000 visitors a day.
Donors to the gift shop are listed on a memorial plaque in the shop and on paving stones embedded in the outdoor courtyard.
Thanks to the donors to the Clemens Gardens Gift Shop:
Amcon Block & Precast, Inc.
American Heritage National Bank
Gary Anderson Roofing
Basol Construction
Bauerly Companies
Cellular 2000
D & D Custom Woodworking, Inc.
Jim Dold Masonry
Donlin Company
East Side Glass Company
Jim Eisenschenk Construction, Inc.
Tom Fischer Remodeling, Inc.
Frontier Painting-Gil Gayton
General Rental Center
Randy Graham Painting
Dale Gruber Construction, Inc.
Heartland Glass Company, Inc.
Leo Henkemeyer
Hirshfield's, Inc.
K & G Concrete Construction, Inc.
Kasella Concrete, Inc.
Klein Electric, Inc.
Tom Kraemer, Inc                  
Mathew Hall Lumber Company
McDowall Company
McPherson Insulation, Inc.
Menards Employees
Mid-State Tile
Minnesota Insealators
Multiple Concepts Interiors
Neils, Franz & Chirhart, P.A.
John L. Norman
Walter & Bonnie Parkins
Schendel Drywall
Schoenberg Construction, Inc.
Simonson Lumber Co.
St. Cloud Reliable Insurance Agency
Stearns Electric Association
Stone Crafters
Stone Holding Co.
Tamarack Materials, Inc.
Total Disposal Systems, Inc.
United Building Center
United Products Corp.
Whitney Senior Center Wood Shop
Windows Direct, Inc.