Music in the Gardens
Music in the Gardens
The public success of these professional concerts has been gratifying, and the series continues to showcase high quality local talent. All concerts are held on alternating Sundays at 3:00 p.m. near the Gazebo in Munsinger Gardens on the banks of the Mississippi River. All concerts are free and the Munsinger Clemens Botanical Society will again sell those fabulous $1 root beer floats.
---
2019 • 20th Season
June 9 •  L'unica Quartet (string quartet) will be perfoming.  Unfortunately Granite City Brass were not able to perform.  We apologize for the change in schedule.  
June 23 •  Random Road
July 7 •  Monday Night Jazz
July 21 •  Dennis Warner and the D's – "Memorial Release of the Butterflies" event, see below for more details.
August 4 •  Gathering Wool (Cathie English, Randy Mickelberg & Joe Meyer)
August 18 •  Laura Caviani Trio 
Program schedule may be subject to change.
---
Memorial Release of the Butterflies schedule is:
2:00 pm: Butterflies will be distributed at the Gazebo in Musinger Gardens
2:30 pm: Short Program and Release of Butterflies (Butterflies may be purchased online at www.quietoakshospicehouse.org)
3:00 pm: Concert begins
The Memorial Release of the Butterflies is a collaborative event between Quiet Oaks Hospice House, Musinger Clemens Botanical Society, St Cloud Symphony Orchestra and local hospice agencies. 
Schedule may be subjected to change. 
This activity is made possible by a grant from Central MN Arts Board, through funding provided by the Minnesota State Legislature.
---
Root Beer Floats:
Root beer floats have become a delicious tradition at this event! We'd like to thank the following companies for their generous and refreshing donations over the years:
Kemps
Bernick's
Coborn's
TriMark Equipment & Supply
---
Financial and in-kind support by:
Central MN Arts Board
St Cloud Symphony
Eugene and Mary Margaret Bjorklun
Glen's Precison Auto
James & Ruth Lewis
Arthur & Barbara Grachek
St Cloud School District 742 InnStep Program
Munsinger Clemens Botanical Society
St Cloud Parks Department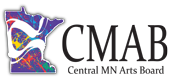 This activity is funded, in part, by an appropriation from the Minnesota State Legislature, through a grant from the Central MN Arts Board, with money from the State's general fund.
Add your name to this list of sponsors. Contact us.
---
Volunteers:
Our sincere thanks to all of the ones that helped serve the root beer floats to accompany the music. We couldn't do it without you!
---